What Is Shadow IT?
With cloud computing becoming a part of every enterprise's DNA, it is becoming much easier for organisations to quickly roll out their enterprise solutions without doing any capacity planning. The most important benefit is the saving of time. Now, a solution can be rolled out within few days instead of months, which was the case earlier. The same advantage is also becoming a nightmare for enterprise ITs, considering the use or rollout of applications without involving the ITs, which is indeed a very serious concern as enterprise data is now residing outside the organisation without the knowledge of their IT department. This is Shadow IT. In other words, Shadow IT is all about the use of applications by users within an organisation without the approval of their IT team.
How Shadow IT Impacts the Enterprises?
Use of applications without the approval of the IT team creates room for serious security risks as the organizations lose control over their enterprise data which is residing in the cloud. There is no control on the following:
Applications used by users within the organization
Enterprise data being uploaded to unauthorized or un-secure portals
Installation of unauthorized apps
Access to un-secure apps
Programs downloaded from unauthorized or un-secure portals
These can become gateways for data loss for the enterprises giving unauthorized access to third parties to their enterprise data. For e.g, data loss and downtime can occur if a software is downloaded or a tool is run, which might have a cryptolocker and starts to encrypt files across the file server.
What Is the Cost of Shadow IT?
Shadow IT has a profound impact on organizations, big or small. A recent study from a leading storage vendor suggests that data loss and downtime cost estimates fall between $1.5 – $1.8 trillion every year. Businesses can even be forced to shut down or reduce their operations in case their sensitive data is leaked. With strict compliance in place, such data leaks can prove to be a disaster for organizations. Shadow IT costs, thus, does not just result in monetary losses but also affects the reputation/goodwill of an organization.
In August 2017, due to Wannacry ransomware attack, a manufacturing firm in Asia had to send out notifications to their users through SMS asking them not to switch on their laptops or desktops till notifications are dropped. The firm then got all its users to submit their laptops and desktops for verification. This resulted in zero productivity for multiple days, resulting in a grave loss for this manufacturing firm.
How to Overcome Shadow IT?
CloudCodes provides agentless/agent-based solution as part its Cloud Access Security Broker (CASB) solution. CloudCodes Shadow IT has the ability to do the following for an enterprise:
Track user's access to internet
Access and report any potential IT risks or threats
Block, monitor and report the use of sanctioned and unsanctioned apps within the organization
Provide compliance
Control data leakage
Allow only sanctioned apps to run in the cloud environment
Block / Track download and upload of unsanctioned apps in real time
Whitelist and Blacklist URLs
Map and identify the cloud apps used by the firm
Assure complete enterprise security
Having said that, it is very much in the hands of the enterprises to control application access by its users, which can be done by implementing a Shadow IT solution offered by a cloud security service provider or an efficient Cloud Access Security Broker (CASB) vendor. CloudCodes enriched CASB solution bridges all the gaps between enterprises and the cloud in regard to data security. CloudCodes Shadow IT solution is highly a robust one; helping the enterprises eliminate any such Shadow IT threats perfectly enough.
There are also, various CASB vendors providing Shadow IT solutions, you can compare CASB vendors here.
Shadow IT Statistics
As per Gartner studies, shadow IT accounts for 30-40% of IT spending in large enterprises.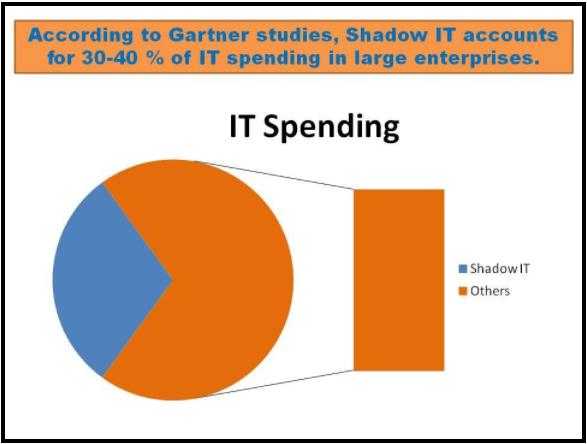 As per Cisco findings, around 83% of the support staff admits of using unsanctioned apps in the enterprise cloud environment.
EMC's recent study suggests data loss & downtime costing around $1.7 Trillion every year.
These alarming statistics surely indicate that there is a massive impact of Shadow IT. Still even this is an understatement in terms of the entire shadow IT ecosystem. Many businesses even cripple when sensitive information gets leaked. It is a real big problem, and highly complicated.
3 Major Negatives of Shadow IT
It is very costly
It can compromise cloud security
It usually goes against the processes
Shadow IT: Emergence and Threat
Shadow IT can occur almost naturally and even can be with undeceiving intentions. It happens just when any technology solution seems useful and safe, and that is very easily accessible that lures the employees to download. For employees falling into this trap, there's not even a single downside for such downloads; they find some apps useful on Play Store and download them directly to company's phones, laptops, or tablets; without even realizing any security risks or complications of such unsanctioned apps. Without any departmental uniformity & technical compatibility, offices have become mere siloes of productivity, where teams are not able to share files; they are not able to collaborate effectively in rightful ways, or even worse. If any department needs some storage space, they might use public cloud and all of a sudden, the expense goes up. Just with one swipe of credit card, they can germinate issues for the IT team. From data breaches, to unplanned resources, to accidental shutdowns of the network because IT team was not ready for this information surge, Shadow IT has many devastating effects.
Uncover Shadow IT
"Have you ever used DropBox to send large documents or official files?"
Yes, then you have gone through the practicality of Shadow IT. Basically, Shadow IT is the set of those cloud-based applications that are not approved by your IT department, yet an employee can use them for various reasons (like quick service, etc). Various surveys have confirmed this fact that most of the employees use various unsanctioned applications to get their work done, keeping safety and data confidentiality at stake.
The unmonitored and unauthorized data that flows from your business is never good for security. More challenges with uncovering shadow IT causes more danger in the scope of an organization. Installation of any third party application by your employees unknowingly causes high-risk malicious attacks like Phishing attack, Ransomware attack which puts your confidential data at a high risk.
Many times, employees are unaware of the risks associated with the use of unapproved applications for data transfer. These apps just wanted to use the shortest route to get their tasks done. It's a job of the organization to make their employees aware of the effectiveness of cloud applications on resources by the organization's IT department. There should be some system or tool to deny highrisk application usage on various or all employees' devices.
Where can you find such type of a solution to monitor employee devices? How can you implement security checks on their devices, be it official approved laptops or Smartphones or their personal devices under BYOD (Bring your own device) policy? This can be procured by some policies or restrictions applied by an IT department of organization.
Evaluate the requirement about particular software which is requested by an employee.
Understand the necessity or urgency of requested software.
Understand the risk of data leakage or data breach if haphazardly done for any third party application.
This analysis helps to evaluate the employee's' activities by setting up various policies within an organization. These policies should be within a scope of scrutinizing the requested tool by all means of security before enabling it.
Well! CloudCodes brings to you a really innovative and much-useful solution to manage every such issue of data security. It has a cloud security solution; CloudCodes SSO1 which is all capable of covering all these security glitches. Under which IT administrator can efficiently monitor employee's activities to work in a flow. This comes to the result of secured enterprise in more ethical way by covering it with all compliance by an IT department.