Bring Security to Your Sensitive Data on All Your Endpoints
CloudCodes Data Loss Prevention assists organization in monitoring, tracking, and securing data at its best. To prevent data breach or data loss from Google Drive, Dropbox, etc., DLP allows to set various policies. By setting these policies, it becomes easy to block, track, or manage downloading, sharing, printing, etc., of data stored on the cloud.
Cloud adoption in any organizations across the world has benefited them in multiple ways. There are many cloud applications available such as G Suite, Office 365, Dropbox, Zoho, etc., which improve the productivity, team collaboration and ease of data sharing from one location to another. However, switching to cloud services has increased the risk of data leakage. Thus, to check the data breach, leakage or failure, an organization needs to be aware. They need to be alert always of how the data is being used and shared by the users. After that, based on the requirements, choose the appropriate solution for data loss prevention in the cloud computing.
CloudCodes is one of the leading solution providers to overcome all the security-related issues in the cloud. After using CloudCodes solution i.e. DLP in the cloud, an organization can ensure that employees are not sending any crucial information outside the network. In addition, the DLP or Data Loss Prevention in cloud computing detects the potential data breaches or data extraction, transmissions. It also prevents the data loss by monitoring, detecting and blocking the sensitive data while in-use (endpoint actions), in-motion (network traffic) or at-rest (data storage).
By using CloudCodes DLP or Data Loss Prevention in cloud computing, admin can control data loss in following ways:
An admin can control the uploading and downloading of documents on G Suite, Office 365, Google Drive, OneDrive, and Dropbox.
Admin can give permission to a single user, or the entire organization, as per the requirement.
An admin can set various DLP policies from the CloudCodes console, using any of the predefined templates or by adding one of their own. Using these policies, an organization can monitor, audit and control any unauthorized data activity happening in the organization.
However, the DLP in cloud is compatible with G Suite, Microsoft Office 365, Google Drive, OneDrive, and Dropbox. The DLP policies for CloudCodes can be applied to the entire organization or to a small set of users within the organization.
Security Features Offered by CloudCodes DLP Solution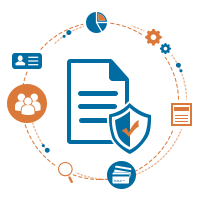 Drive Security
CloudCodes for Business permits the organization to enhance the security of an organization's storage drive (Google Drive, OneDrive) documents. They can apply policies depending upon their requirement to limit or restrict the access to document containing crucial information i.e., PII, PCI, and PHI data. The organization can use the DLP policies offered by the CloudCodes to verify:
Personal Identifiable Information that is important while identifying the specific individual.
Payment Card Industry details that manage the payments using credit or debit cards.
Protected Health Information containing information related to the health of an individual.
In an organization, analyzing documents stored within the user's account to detect any violation is nearly impossible because of a large amount of data is stored in the cloud. To overcome this, CloudCodes DLP solution scans the documents stored in the cloud periodically and looks for violation.
Go Back To Features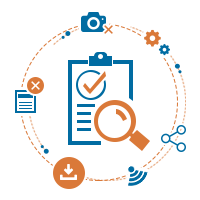 Document Compliance
Using the CloudCodes DLP Security solutions an organization can define the policies on all actions performed on the document. They can easily track or check whether the document is changed, edit, or delete by someone. In addition, if anyone tries to do so, what actions needs to perform against the same. One can apply policy on a document to track and control following:
Downloading of Documents: DLP solution allows to set policy on downloading of the document. It means whenever someone tries to download a document stored on the Google Drive, it can easily be tracked or controlled.
Deletion of Document: If someone deletes any document stored on the Google Drive, then this policy keeps complete record of it. For example, who has deleted the document and which document is deleted.
Sharing Outside the Organization: Sharing of any document outside the organization can easily be handled by setting such policies. Moreover, DLP solution by CloudCodes is capable to revoke the external access also.
Taking Screenshots: An organization can set a policy also to restrict users from taking screenshots. No one is allowed to take screenshot of the work going on a particular system.
It also permits the organization to define actions, which is to be taken when such type of violations are detected. For e.g, if it is found that a document is shared outside the organization, the IT can define policies to revoke the external access.
Go Back To Features
Block USB Device
There are some preventive controls also offered by DLP in cloud computing security. One of the major sources of the data breach in an organization is through USB. Thus, to prevent any type of disaster through USB, an organization can set a policy against it.
DLP in cloud security can block the access to the USB port in an organization. It all depends upon the choice of organization. They can track or block USB port access by anyone within the organization. This way DLP solution by CloudCodes will work as a preventive control measure.
Go Back To Features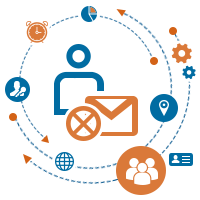 Block Personal Gmail
Data Loss Prevention in cloud security by CloudCodes provides an excellent measure to handle access to personal accounts like Gmail or DropBox. By setting such policy, administrator of an organization will be able to monitor, track or block access to the personal accounts. It is another way of preventing potential data breach.
With the help of CloudCodes DLP solution, an organization can have a complete control on the behavior of its employees and prevent any form of data leakage. It is one of the most reliable approaches to perform a proper action against any violation.
Go Back To Features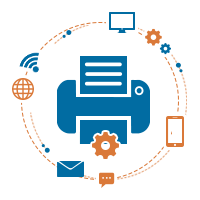 Control Printing of Document
Another way of performing DLP for cloud security is by controlling the printing of document from G Drive. CloudCodes enable administrator to block or control the action when someone tries to take print of G Drive document. The DLP in cloud computing is also capable to alert an organization if any attempt was made. A complete package to deal with all type data leakage related issues in the cloud.
Unlike other CASB vendors who focus on using API based approach, CloudCodes uses a preventive control in addition to the other policies. In preventive controls based approach, the focus is on preventing any form violations. It means, the identification happens after the damage has been done, but in preventive controls, the DLP in cloud security prevent the incident from occurring and notifies the organization if an attempt takes place.
Go Back To Features