Access Control in Cloud Security to Safeguard Business All the Time
As enterprises are moving their work on cloud now, it is important to keep real-time surveillance on crucial data access. As far as the corporate information is concerned, the admin has duty of continuously tracking the employee behavior. This is the reason due to which organizations are looking for cloud security solutions that provide granular over the user's activities in data. Such situation leads to call for services that provide access control in cloud security.
CloudCodes for Business team provides access control in cloud computing arena. It equips access control solution that prevents users from data breaches. The production of access control in cloud storage is essential because it is directly proportional to the growth of organization. Our CASB solution imposes certain restriction policies that ensure 100% security control. This is possible by rendering proper supervision and visibility on how enterprises data is being used in and from the cloud. We are imposing policies like IP Restriction, Device Restriction, etc., for ensuring data access. Administrator will be able to track unauthorized user that can be inside the organization or outside the enterprises.
CloudCodes access control in cloud security integrates several approaches to a single console. This provides all-at-one-place security to firm working in cloud storage. Organizations will be able to attempt a secure enterprise ecosystem by allowing granular control and visibility on all the confidential files saved on cloud. Administrator is free to impose strong security over the existing ones without affecting the already available security.
Besides the flexibility, cost-effectiveness, easy manageability, and scalability are offered by our CASB cloud environment. Data security is still the prima facie of technology, which is a point of concern when an organization moves into a cloud working environment. For ensuring absolute security control, Access Control works as the chief security handle by imposing certain restriction policies. Access control in cloud computing provides the cap on user access to tap data transfers in the best interest of organization.
Security Features Offered by CloudCodes Access Control Solution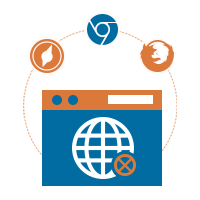 Browser Restriction
This feature includes restriction of end users from accessing confidential files and folders on any web browser. Data access control in cloud computing enables users to use only one browser for more secure and efficient policies management.
Restricts any of the trending web browsers like Mozilla Firefox, Safari, etc.
Manages Google Chrome using Google admin chrome management console
Pushes the applications and extensions through the Chrome Management
Organizational unit based granular control policies
Easy and automated rollout
Go Back To Features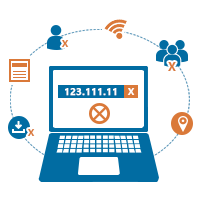 IP Restriction
Access control in cloud environment by CloudCodes team enforces IP restriction to all employees or a set of end users to control the activities. This will limit one from accessing organization information on unregistered or unknown IP address.
Restrict user or a subset of users to IP address
Policy-based restriction for providing strong granular control
Customize mapping of users over one or more IP addresses
No firewall settings or local installation are required for this feature
Go Back To Features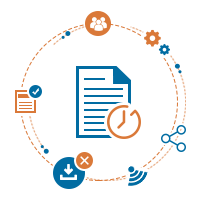 Time Restrictions
Our access control techniques in cloud computing provide feature of imposing time duration to work with crucial files. This involves customizing days and time duration settings to use the data only in specified period.
Limit users from accessing data under certain time duration
Policy based restriction to provide a very granular control
Gives support to multiple time zones
No extra apps installation required
Go Back To Features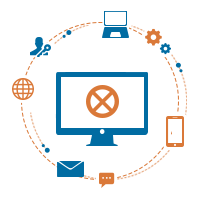 Device Restriction
CloudCodes access control security in cloud environment restricts users from personalized device to work with office data. This enables employees to work with firm data only on organization's machine.
Do not allow users to work with their own devices
Supports MS Windows as well as Mac OS machine
Admin approval is needed to work with personal devices
Self-service rollout
Go Back To Features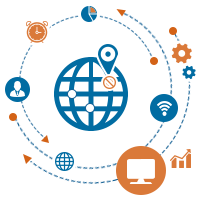 Geo Fencing
Create virtual work boundaries for your users to prevent unauthorized data access from unidentified locations with the geo location restriction feature of CloudCodes CASB solution.
Restrict users to access work data from one or more specified locations, city or country
Policy based restriction to provide a very granular control
Enforce policy on single user, an organization unit or the entire organization
No additional apps required, only device location needs to be enabled
Go Back To Features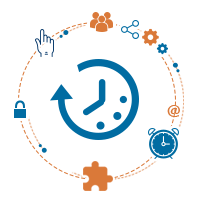 Session Timeout
This feature for data access control in cloud storage improves security during the user inactivity. It involves:
Immediate timeout when no activity from keyboard or mouse in performed
Imposes organization-based timeout policies as per owner or admin demand
Browser extension support on Chrome, Mozilla Firefox and Internet Explorer
Configure between 5 mins to few hours of time out
Go Back To Features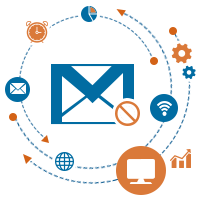 Consumer Gmail Block
CloudCodes for access control in cloud security gives 100% assurance to firm that employees will be restricted from accessing their personal account during work hours.
Blocks users from accessing their personal Gmail ids
Auto logout when such type of Gmail ids is encountered
Immediate notification to organization Admin or manager
Policy-based rollout
Go Back To Features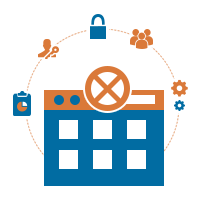 3rd Party Access Restriction
The CASB solution for access control in cloud computing benefits users with following advantages too:
Blocks proactively by preventing OAuth access
Create whitelist of applications which are allowed
Report administrator about force access attempting
Go Back To Features