What are the Cloud-Based Email Security Risks and How to Deal with them?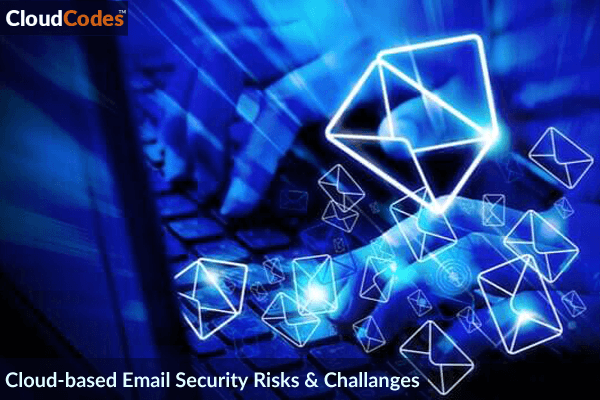 Cloud-based email security could be challenging for companies to achieve successfully. The post is going to aware readers with what are the major challenges while securing an email system and what measures can be adopted to protect it.
It has been observed that few significant trends are enforced upon confidential information and organizations are trying to keep their online information secure. Many note items comprise of following things:
Out of the entire cloud documents, around 21 percent of data is sensitive. This percentage value has now increased by 17% from the last two years.
Threat incidents in the cloud environment have increased 27.7% year over year, and around 80% of all companies experience cloud data breach incident at least once in a month.
Cyberattacks in MS Office 365 tenant have raised by 63% in the past 2 years.
Don't behave as if you are in a shock state, after reading the above listed observations! These are simply an alarm for companies who are still careless regarding cloud-based email security.
Cloud-Based Email Security Challenges
When an organization decides to use email services, there are some core differences that it faces with regard to the email data security. It is so because the service is provided by a third-party vendor, which is chosen by the company. It is the strategy of vendor to enforce the methods for implementing email services that they offer to their customers. There are chances that a company might experience that it is reducing visibility into cloud data because people are getting engaged in understanding and performing activities on email platforms. Sometimes real-time visibility is affected in a severe manner. Cloud-based email security teams in businesses are dependent upon the logs and alerts, which they receive from mailing platforms. These alerts act like a basic indicator for unexpected behavior or threats that are occurring. Talking about the logs then, receiving fewer logs, logs after a long delay, or logs with less details – these sort of scenarios significantly harm the entire processes of security monitoring and response causes of several security teams.
In addition to all this, the option of cloud-native from some vendors are not excellent. It is an attempt to sign up a comprehensive suite that provides additional security services within it. The suite comprises of antispam, basic malware and detection prevention measures, DLP, antiphishing, and other basic cloud-based email security solutions. But here the problem is that, online mailing services are not essentially known for being at the top in the aspects of security. Always Cyber security experts recommend enterprises to adopt cloud access security broker solution providers for strongly protecting email as well as cloud data.
Most cloud email vendors leave a lot to be wished for advanced teams who really need in-depth analytics about email behaviors, real malicious activity indicators, or compromise from headers of emails and network traffic flows. Another major area where companies have to work at any cost for cloud-based email security is 'user's activities in an email account'. It is tempting to learn that the thorny issues of device authorization, passwords, and multi-factor authentication are not used properly by account holders. However, email systems are likely considered as No.1 end-user app service for company today, and users behave terribly when it is about saving account credentials. Multi-factor authentication option and universal support for all devices' types are not offered by all online email services. This means that it could be challenging for industries to ensure strong security of email data, if employees behave carelessly or are unknown about Cyber security.
How to Overcome Cloud-Based Email Security Challenges?
Fortunately, it is not all doom and gloom! Enterprises can acquire some initiatives at basic level to minimize potential challenges of cloud-based email implementation effortlessly:
Adopt a latest email security standard, which keeps a proper track record of cloud services.
Activate the multi-factor authentication option in your tenant, which might restrict the use of cloud email services by unauthorized users.
Adopt a cloud security access broker solution, which is a comprehensive approach to offer cloud-based email security in all aspects.
All-In-One Security Service is Offered By CloudCodes CASB
Enforcing all email security solutions separately might result in complications and, are difficult to manage as well. Already a company has lots of stuffs to do and adding up the stress of cloud data protection is like a burden for them. Instead of holding all things collectively, it is better to outsource the responsibility of cloud computing security in hands of CloudCodes. The service eliminates the headache of cloud-based email security and ensures its business clients that it will secure their data 24*7. No chances of data loss or threat occurrence will be there, if companies show their trust on CloudCodes CASB solution.