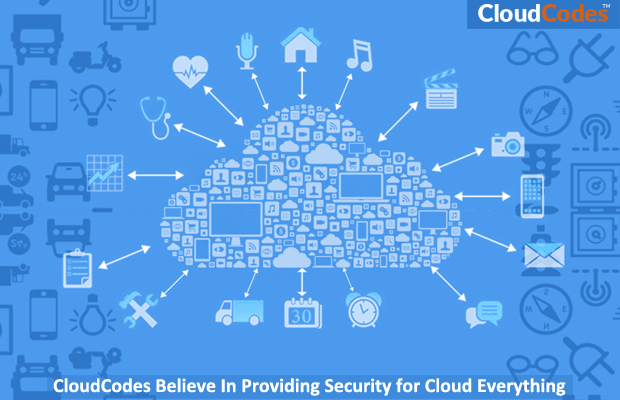 Positive responses and increase in number of clients – These both aspects act like a fuel for CloudCodes team to continue developing new innovative solutions for Cyber security & for cloud everything. We completely believe on the fact that the emergence of new measures help in overcoming latest cloud computing challenges. These challenges are the one that organizations face due to the adoption of cloud platforms. All of us know that one of the major cloud challenges is data security on cloud, which is posed by growing blurred boundaries in between the web and cloud.
CloudCodes was launched with a belief that the wide-ranging impact of cloud will demand for arrival of a new approach to constantly strengthen the security level. To match up a high security standard, we develop our measure with a basic key factors in mind:
First aspect is that enterprises would, knowingly or unknowingly, use several cloud platforms. Out of several, only few platforms would be administered centrally by IT.
Second thought is that users would access business applications from any location at any time on devices' multitude.
Last but not the least, rather than block programs outright, IT would opt for governing what individuals do with them.
These three major aspects drove the team's architectural choices, and in actual, are the major reasons that makes us different in the marketplace. Well, now readers can go through some of the drivers to brief themselves with amazing cloud security solutions that we provide!
Cloud and Unsanctioned Cloud Explosion
Thousands of cloud risk assessments are done by CloudCodes team. Information from these assessments indicates that over 1K cloud apps are currently in use at a typical organization. Here the important point to be noted is that 'while IT might have sanctioned few cloud apps still, remaining cloud apps are used by employees or team that are free from security standards.' Every person in a company might select the adoption of an IT deployment and procurement process. Every official in the organization might prefer the adoption of their preferred cloud applications; often taking the benefit of the free model provided in several online applications to complete their work. Lots of times it is difficult to draw a difference in between the organization sanctioned and officials adopted instances of same app.
Groups within an organization are quickly adopting PaaS and IaaS approaches to create their own programs without holding for IT to deploy, manage, and procure the architecture required to support these apps. Each of the unsanctioned SaaS apps or customized programs based on the PaaS or IaaS architecture use private or public API, which fulfills the legacy security solutions' requirements. The complications involved in API calls might not be clear from the data gathered from just seeing the network traffic. A latest Cyber security solution has to understand these calls of API to identify the challenges created by the cloud services' explosion.
Blueprint of Approaches Used By CloudCodes
The CloudCodes CASB solution is an accurate platform to secure companies in today's CyberWorld by offering :
Company's Context Driven – CloudCodes solution deeply understands APIs and hence, has the ability to dynamically analyze unpublished APIs across authentic and unauthentic services. This is done to accurately address context and content of user activity across both web and cloud.
Comprehensive Coverage – The solution is embedded with the ability to protect social media platforms, sanctioned SaaS apps, online architecture services, and analyze the activities performed on web.
Unified Cloud Policy – One policy engine is present in CloudCodes solutions to allow clear configuration settings and consistent enforcement across unmanaged / managed devices, remote user access, and on-premises
Threat Protection – An automated threat prevention is provided in CloudCodes security software. This spans web and cloud with several attack detection engines. Advanced threat protection is provided by this approach.
In actual, it is exactly what a business client wants when he or she looks for an approach to outsource company data security.
Customer's Data Security Is Our Priority
Cloud computing adoption is continuously increasing process, which does not have any endpoint. It is so because companies in all domains desperately desire for developing their business in today's world of digitization. Therefore, security leaders have to acquire a cloud-first program when searching for correct security approaches that fit their list needs. Cyber security measures that operate enable security groups for taking a perfect approach to understand, safely allow, and control business data without slowing down the adoption rate.
It is safe to work online; only thing is to take security seriously and for this the perfect option is to prefer use of CloudCodes advance security solutions!!