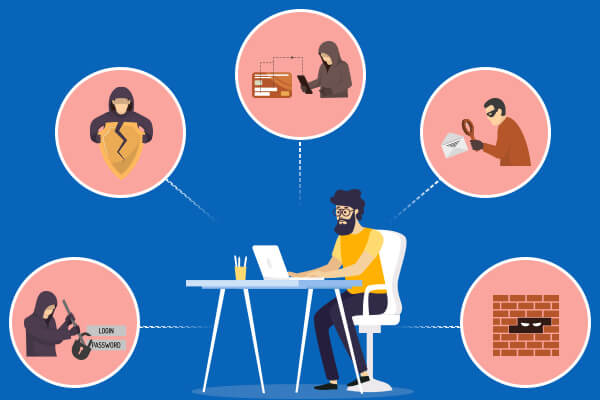 Cybercrimes from threats that run or defeat around approaches of endpoint protection are increasing day-by-day. Its become important for internet users to learn the tactics used by hackers to bypass endpoint protection. This helps them in designing a security boundary, which restricts attackers from performing their intended dangerous task. According to Ponemon's endpoint security risk report 2018, 60 percent of IT security executives said that the attacks' frequency has risen over the past 1 year. 52% of the respondents said that all threats can't be realistically finished. Their antivirus approaches are holding only 43% of threats. 64 percent of respondents replied that their companies had gone through several endpoint threats, which resulted in data breaches. The overall report that was based upon the survey of 660 IT security executives, displayed that around 70% of the public said that unknown and new attacks have now increased, whereas the finance of successful threats has grown from an average of $5 million to $7.1 million. But, the majority of PCs have some kind of protection utility in them. Now a question arises – What are the measures that hackers use to perform Cybercrime or data breach? It's time to list down some of the major tactics that hackers use to bypass endpoint protection security.
Major Tactics that Hackers Use to Bypass Endpoint Protection Security
Script-based Threats – In script-oriented or fileless threats, the malware is a script that operates in existing, legal apps to provide PowerShell or access other pre-installed Windows elements. None of the new products are being installed due to which traditional defenses are bypassed. As per the report given by Ponemon, these types of security threats are going to result in a successful data breach. There can be some amount of network traffic, which can be carried away by the security machines. However, hackers can secure their communication processes through encryption algorithms and prefer the use of a trusted communication hierarchy for ex-filtrating the data.
The measure to address these types of threats is to search for a solution that has the capability of addressing uncommon activities on common apps.
Host Malicious Websites – Several security environments defend against phishing attacks by keeping end-users safe from clicking on malicious links. For example – an individual may check if a specific IP address has been linked with other malicious campaigns. However, if he or she hosts it on platforms like G Cloud or Azure, this architecture is broadly used and can't be blacklisted. Once the malware already gets installed successfully on PC, it communicates back to C & C (command-and-control) servers to achieve commands for what to do further and for data exfiltration. Again, this channel of communication could be disguised, if this particular server is hosted in an otherwise legitimate environment.
The cloud hosting services usually comprise of in-built encryption features, and it has been found that photo-sharing websites could be utilized as threats' part. Hackers develop social media tenants and upload images that comprise secretive code or commands within them. The malware is then asked to simply access the tenant, analyze the image thoroughly, extract some important information, and execute the provided commands. This practice of secretively coding program statements in pictures is known as steganography that can also be utilized to keep instructions confidentially in picture attachments.
Damaging Legitimate Tools – Every company comprises a multitude of 3rd party applications used by business employees. If hackers comprise those apps by entering into the firms that develop them, they can install backdoors and other malicious programs in them. For example – The cleaner (a known PC utility to clean useless documents and registry entries from a PC) was corrupted with a backdoor. As per the CloudCodes survey report, the total number of threats aimed at the PC supply chain was increased by 78 percent in the year 2018. Always remember one thing – an open-source code is specifically vulnerable. At an initial stage, hackers create a software update or legitimate bug fix that works very smoothly. The legitimate program is there to cover any malicious code in an effort for passing the review procedure. This contribution becomes part of a future releasing of a product if the review idea does not vet the complete functionality of the contribution.
To stop hackers from bypassing endpoint protection, companies and product developers must be careful to inspect products for open-source code. They should track that code back to its exact point so that it can be eliminated or fixed rapidly if spotted.
Ease Down Your Efforts By Using CloudCodes Solutions
Undoubtedly, there are lots of efforts required to secure data on cloud platforms. It demands a team to manually analyze the endpoint network, track employee activities, scan programs being installed on a machine, etc. Due to this, people are unable to focus on their actual business growth and spend their time providing the best security as much they can. These hard efforts can be reduced up to a major extent by adopting an automated CloudCodes CASB solution. This solution is an integrated platform that manages cloud security in a way that enables business officials to balance the work along with the protection of data stored on the cloud. Organizations can opt for this solution if they wish to stop hackers from bypassing endpoint protection without any hard efforts.