CloudCodes 2017 in Review and 2018 Roadmap
2017 in Review – CloudCodes
Fostered Growth
With prime focus on providing quality CASB solutions and customer satisfaction as the ultimate aim, we, at CloudCodes, have accelerated on the ladder of growth, fostering it to around 30% in 2017. Steady approach, streamlined direction, full determination and good intent led our teams towards this growth spree, encouraging our teams all through and motivating them throughout the year round. The year has been an aspiring and inspiring one for the entire team of CloudCodes, who are all the more geared up for 2018 to put their best put forward in terms of service provided to customers across the nations.
CloudCodes 2017 Market Expanse
We, at CloudCodes, have been successful in creating a high demand for its high-end CASB solution and able to penetrate and expand its customer base and market reach in Retail, Aviation industry, Education sector, eCommerce, Pharmaceuticals, and IT, and its market share is up from previous years. Take a look at the Use Cases of CloudCodes CASB solutions across vast industry verticals here.
Strengthened Feature Palette
The year 2017 had seen the addition of a host of new features to CloudCodes for Business solution, making it more robust and all the more efficient for improved customer satisfaction. Our development team is always on the lookout for scope of improvement, and in doing so; our teams are collectively worked on receiving hands-on feedback from various industry segments using CloudCodes CASB solutions, which served as the basis for introduction of the new features to include Advance DLP (Data Loss Prevention) features for Google Drive and Dropbox as well as Shadow IT solutions that generates real time violation reports for the admin so that timely actions can be taken.
Notable Updates of 2017
2017 was the year of some of the most notable updates including Geolocation / Geo fencing in the Access Control features. As a matter of fact, this Geolocation feature has been one of the favorites of most of our clients since its introduction.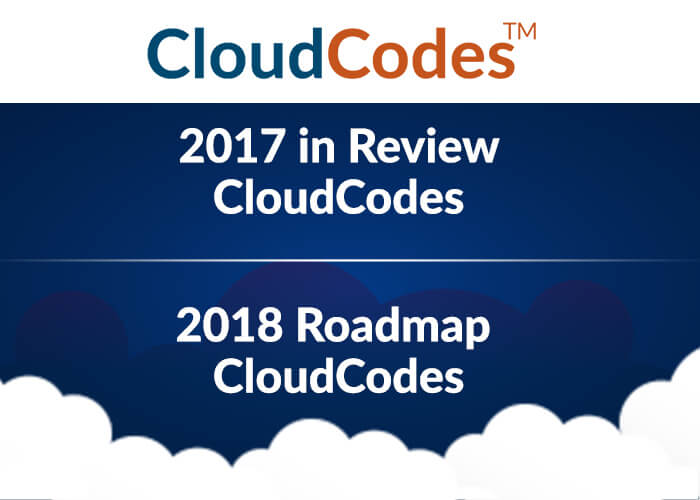 2018 Roadmap – CloudCodes
2017 turned out to be a great year for us at CloudCodes and we plan to take our spirits higher and aspire to work towards achieving excellence and offer advanced security solutions.
New Dashboard with Real-Time Update in One Snapshot
The refreshing New Year 2018 is in for a big update in the CloudCodes CASB solution. With reports playing an integral part for any admin, we are designing a dashboard that would enable the admin to monitor all the organizational data activity in one view, with the help of real time reports – promoting real time monitoring, leading to timely action by the IT. This new dashboard aims to make the robust CloudCodes system even more user friendly.
Targeting towards Enhanced Customer Experience
While working on the theory of – "Customer Is King!" we, at CloudCodes, are embarking on a journey to enhance and showcase better-than-the-best customer experience by adding value add-on features and strengthening our core support team by enhancing leadership and technical skills with a range of intricately planned and scheduled training workshops through the year 2018. For any business, it is the customer experience at the end of the day which all matters the most; and we well-understands this fact, as we work towards achieving this goal by undertaking our job well and by acknowledging the requirements of customers, moulding our solutions as per their need and by addressing their issues quickly enough.
Machine Learning based User Behavior Analytics
As it is a need for any online platform to perform efficiently and effectively to document both good and bad behaviors, we, at CloudCodes, will soon be coming up with machine learning to monitor and offer most efficient User Behavior Analytics that captures the intricacies, and puts forward a strategic approach to counter and channelize them most appropriately, thus evolving the existing security policies and reports in line with the new behavioral trends.
Enhanced MDM Capabilities
Mobile Device Management involves administration of various mobile devices, including Smartphones, tablets, laptops as well as desktop systems. MDM is chiefly implemented with mobile management features for specific mobile device vendors. As BYOD approach is becoming increasingly widespread; thus, MDM allows corporations to provide their employees with complete access to various internal networks using any mobile devices as well, whilst all those mobile devices would be managed remotely with bare minimal disruption to the work schedules of employees. Our existing CASB solution suite currently has very basic MDM capabilities; however, addition of Containerisation support has been projected for the year 2018 for an enhanced customer experience.
Secure email
Secure browser
Secure app catalog
Major Update – DLP feature for Emails and OneDrive
Based on customer feedbacks, insights, requirements and requests for enhancements, we always steer in the direction of improvising our existing solution base. DLP for Dropbox and Google Drive for blocking and tracking of download, upload, sharing is already a part of CloudCodes CASB solution. And now our teams are all set to launch the release of DLP feature for the new platform i.e. OneDrive. DLP for Email, One Drive will soon be a part of this CASB solution base of CloudCodes, which is currently in the process of implementation. The DLP feature for emails refers to tracking and blocking of user activities over email, which would enable the organizations to ensure that no confidential data is shared by its users. The DLP feature will monitor and scan the entire email body as well as attachments to find any violations and report the same in real time.
All-in-all, we, at CloudCodes, are highly looking forward to work out our innovation wings in the year 2018 to serve the customers with much enhanced CASB solution modules.