Today's CloudCodes post is going to aware its business clients with new concept of cloud security observability, its role in Cyber security, and six main principles that would help companies in designing and monitoring their machines for security observability.
Security observability has now become an essential aspect because in today's digitization scenario, organizations have begun creating products with mindset of cloud-native apps, covering immutable, distributed, and ephemeral machines. With the shifting of data from off-premises platform to online architecture, older monitoring machines are no more effective; giving emergence to a new set of practices – named as observability.
Introduction to Cloud Security Observability
The method of analyzing how well-instrumented a system is, and how smoothly users can detect that what is going inside, is known as cloud security observability. An IT security team should code and create observable systems for helping their organizations to fulfill their specific business goals. Operational teams are not only the one who faces hurdles while monitoring cloud-native architectures. New layers of infrastructure enhance the threat surfaces, and highly automated, the transient platform has forced data security team to make modifications in their existing strategies as per the requirements.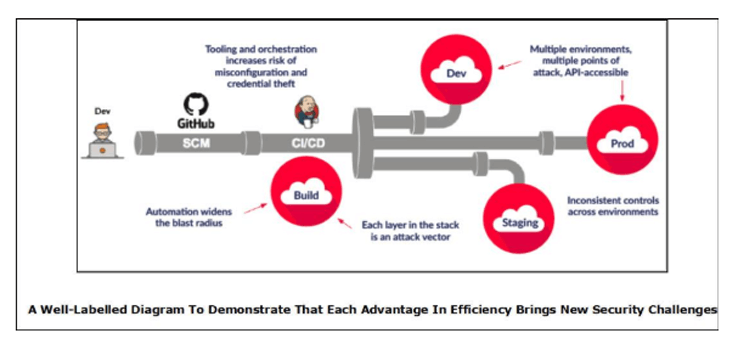 Internet hackers can use new platforms and procedures throughout the product development lifecycle because the points of potential exploitation are not enclosed within one perimeter. Cloud security observability is important for DevOps and security teams so that they can achieve a proper and clear understanding of overall systems' health, identify abnormalities, and investigate the entire incident rapidly and effectively.
6 Core Principles of Cloud Security Observability
Data Security Is Now the Part of Financial Success – Most often, data security has been locked at a binary stage where – you are breached or not; you are protected or unprotected – no one knows. This results in security to act as enforcers, reducing challenge at any costs, even if these demands work delays. However, the actual fact is 'security is an industrial operation, which has an equal contribution to the company's financial success'. This means that it should be considered as a serious aspect of industrial work. It is the major responsibility of security executives to make decisions regarding security, which protect data from breaches, and simultaneously provide security observability too.
Mitigate Dependency on Perimeter-based Controls – The traditional method to protect a data center concentrates on strengthening the perimeter – controlling and monitoring the traffic flow, which enters and exits that network perimeter. In cloud-native platforms, everything is "outside the boundary", and it requires a shift to zero-trust infrastructure, which focuses on analyzing and controlling who is accessing business resources and from where. Now, the perimeter is the authentication layer for any API people care of, from their cloud vendor's to their microservices. Instead of analyzing the attacker's point, organizations should address anomalies that involve expanding the network boundary and enforcing different elements to set up a system.
Make Use of Monitoring Tools to Validate Controls – This cloud security observability principle says that data should be gathered during monitoring. It will help in uncovering different hidden areas that can later be secured from causing any threat. It is inversely required to verify the controls via monitoring technology.
Access Telemetry Analytics to Predict Challenges – Different types of risk indicators should include different outcomes so that you can achieve useful data while ignoring the alert fatigue. Following are the ways in which behaviors are broken down:

Suspicious – These denote that behavior from bad actors is potentially occurring.
Malicious – These give clear indication that bad actors are at completion of their intended threat.
Risky – Usually, these are done by business insiders who have the intention of causing harm to their company where they work.

A system can be devised with the help of these categories, which enables organizations to review the signals and make use of them to notify the changes they are making in existing configurations and standards. This can be as much easy as blocking time on a weekly basis for reviewing warning notifications.

Optimize Data Flow and Systems for Investigation – Apart from emergency cases, all notifications demand that action should be programmed in automated solutions. This idea helps in ensuring that the security team is known about the threat and can immediately take action whenever required. Additionally, it is essential to seek for forensic investigation strategy when you are designing systems. Deep investigation of incidents is always going to be the part of Security Operations – and also, it is essential to ensure that it could be performed in an effective manner from PC.
Design Risk Signals to Firm Context With Threat – Once companies start with an understanding of threats their business might face, it's now time to plan that what are the key symptoms of risk in a company. Keep in mind that these could hold anything that ranges from an alarm-worthy notification that has resulted in exposure to the sign, which can disturb existing settings. Users can enforce this procedure to several parts of their architecture and regularly positive updates can be done in it. Updates are required to timely strengthen the existing security level of cloud storage.
Time to Wrap Up
Cloud security observability – It is all about having concerns regarding the security of data that is stored online. Enterprises should adopt CASB solution to achieve an automated observable solution in their premises and be known with what is going on with their business resources. At the end of the day, companies are the sufferers who have to face the consequences of data breaches; therefore, it is their major responsibility to ensure hundred percent security from their end!!