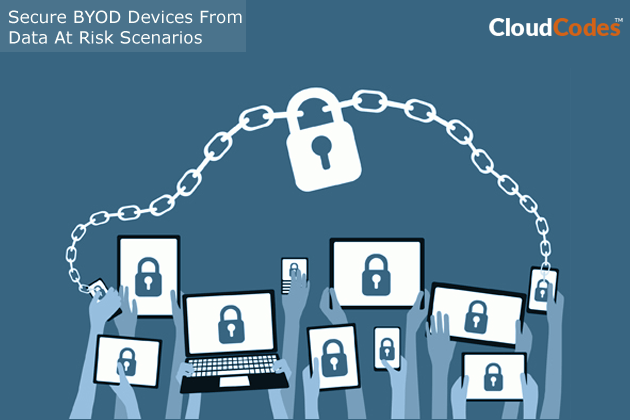 A survey done by the CloudCodes team of experts found that today's companies are permitting their employees to work with bring your own device (BYOD), which is actually a good point. But, we also found a shocking fact that enterprises are keeping their BYOD devices insecure i.e., no set of proper training, best practices, and security tools in place. This scenario shows a significant threat to business confidential data security. In today's blog, we are is going to explain that why it is important to adopt the CloudCodes CASB solution, to secure BYOD devices from data at risk scenarios.
Some Shocking Findings From the Survey
Most industries are making use of BYOD devices to give working flexibility to their employees. 74 percent of the respondents said that officials in their organizations are allowed to access companies' data for work on their personal devices. However, around 50% of respondents either said that they didn't know if policies to secure BYOD devices exists, or their employer didn't have a proper BYOD security standard. Respondents believed unmanaged devices (31 percent) to be at the top hidden spot for data breaches. In addition to this, smartphones were the 3rd largest hidden spot with 18%. Apart from all this, less than a 5th of respondents (16%) mentioned unmanaged devices as a top security standard for their companies in the current year.
'Use of BYOD devices can provide advantages like cost-saving, talent retention, and an increase in productivity at the end. But, enabling employees to attempt business operations on their personal devices can result in cybercrime or data breaches. This result could occur only when people don't secure BYOD and put the data at risk.'
How to Secure BYOD Devices From Data At Risk Scenarios?
Organizations have to adopt advanced products to make the best use of BYOD by securing it properly. For example – they can adopt UEBA (User and entity behavior analytics) and data loss prevention techniques to secure BYOD devices and hence, be safe from upcoming threats. In addition to this, they must have the ability to filter out corporate data from personal devices without hampering personal information. But, for a successful deployment, these capabilities have to be enforced through an agentless approach, which won't hinder device functionality or user policy. Well, the following are some easy tips to secure BYOD devices from data at risk scenarios, which enterprises should adopt to prevent data breaches:
Always download and install virus-free products on BYOD devices
Use a real-time internet traffic scanner and an online scanning engine
Ensure that the BYOD applications are updated with their latest version
Attempt periodic system scanning operation with security products
If you aren't aware of security policies, prefer contacting experts.
Enforce encryption technology on your documents in transmitting & rest mode
Physically secure BYOD devices by enabling security codes or patterns on them.
CloudCodes CASB – All-in-One Way to Secure BYOD
It is impossible to simultaneously analyze each BYOD device of all business employees to check security standards. Therefore, it is better to adopt CloudCodes CASB approach, which is an automated approach to secure BYOD devices from data at risk scenarios. No involvement of humans is required to monitor, scan, and check the security policies of every BYOD component simultaneously. The approach automatically analyzes the health of BYOD and gives a detailed report to the admin about it. If something fishy is detected, it quickly sends a warning notification to the admin department recommending them to attempt the preventive actions.