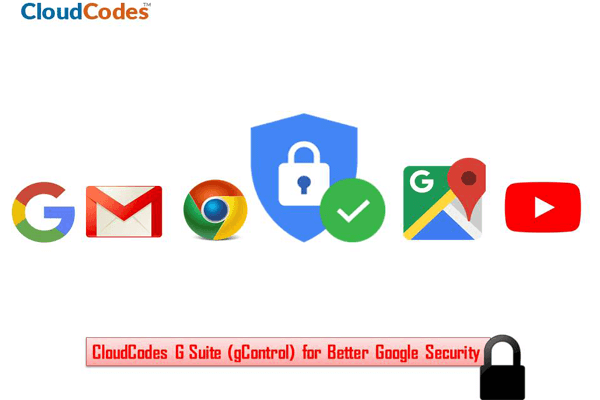 Let's Talk about G Suite Security
It is pretty clear that G Suite is popular. Period! This is due to its flexible plan at affordable rates. Also, it provides superior service and its collaboration tools are powerful and serve the much-needed functionality in any organization. G Suite is made up of Google Slides, Google Drive, Google Docs, Gmail, Google Forms, Google Apps Vault, Google+, Hangouts, Google Calendar, and Google Site. All these powerful platforms are packed in a single effective G Suite that supports the business processes. Another foremost feature of G Suite is that everything is stored on the cloud and not on the local system. This makes it a wonderful platform to collaborate works from different locations. That precisely means that no matter which part of the world you are, you can always work and share Google Sheets, Google Doc, Google Drive or Google Forms with your team. And all the team people can work together simultaneously from different locations without any barriers. To top it all, everything gets saved automatically! However, security is a concern which can be addressed by gControl Google Security.
Google Security – A Concern to Be Addressed!
With all the above features, G Suite is indeed a great tool to work with. But with such lot of flexibility and openness on a cloud platform, there needs a concern to be addressed. This is of its security. Things can turn worse if the cloud infrastructure gets into the hands of the hackers with malicious intent. gControl Google Security could be the answer.
gControl Google Security Shows the Ray of Hope
There has to be a solution to the security challenges posted by G Suite. There has to be some future plan that provides the extra protection from any data breaches or hacks into the cloud infrastructure. The answer comes in the form of gControl Google Security for G Suite from CloudCodes. The proof is that more than 300 global customers use gControl to secure their G Suite.
Adequate G Suite Protection from Security Attacks
Google, no doubt, has designed G Suite that contains very stringent privacy and security standard as per the industry best practices. By this, the compliance and regulatory requirements are addressed. Also, Google practices strong contractual commitments in relation to data ownership, security, transparency, accountability, and data use. But, with gControl Google Security, you are sure to be a step forward always. gControl Google Security, a CloudCodes offering, provides granular control and visibility of all the enterprise data on G Suite. This is achieved through the means of policy controls, notifications, and real-time alerts to resist any potential breach. The special features included in the gControl Google Security pack are Consumer Gmail Block, Third Party App Block, and the Block/Track functionality for G Suite.
gControl Google Security from CloudCodes – All Round G Suite Security
With CloudCodes gControl Google Security, be assured of a secure ecosystem. It provides granular control and visibility over all the confidential data in G Suite. Moreover, gControl Google Security gives the IT admin absolute control on the user behavior. This is achieved by policy controls that send real-time alerts and notification when it senses a potential breach. IT people can then enforce Access Control policies based on device, IP address, browser, time, and geo-location. This gives policy enforcement at the macro level. The advanced 'Consumer Gmail Block' feature of gControl Google Security permits the companies to block the access of personal Gmail user accounts. It also does not allow any corporate data to be transferred out of the enterprise.
Google G Suite that was formerly known as Google Apps for Work is one of the most popular apps used by global enterprises. The benefit of G Suite is that it enables simplicity and enhanced data sharing all over the world. Its ease of use has resulted in an increased productivity and collaborations within the organization as in teamwork. While the use of G Suite apps like Gmail, Google Docs etc., has enhanced the flexibility, it is essential that care has to be taken regarding its security. It is the responsibility of the enterprise to ensure that adequate security controls and regulatory compliances are in place to protect proprietary and confidential data. This is achieved by using CloudCodes for G Suite Security.