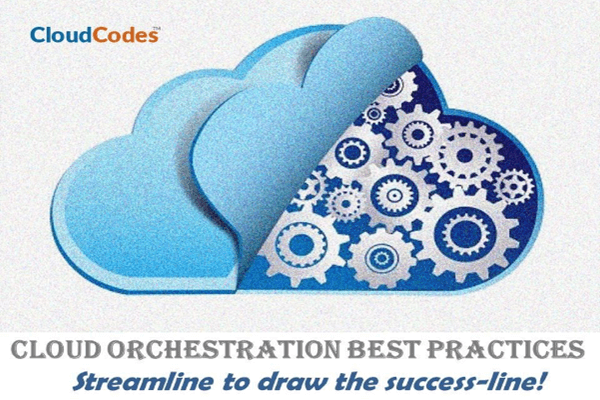 Cloud-computing provides the firms with scalable, cost-effective and reliable ways for running their critical business apps. Given the myriad of benefits that cloud infrastructures provide to businesses, it is no surprise at all that a recent Gartner's study forecasted that specifically the cloud services' industry can grow at around 3 times the rate of the overall IT services by the year 2022. In today's post, we get to Know about cloud automation & cloud orchestration best practices to process and enhance the customer experience at cloud.
A vital part of cloud automation, the term, cloud orchestration, refers to the coordination/organization of automated tasks for the development of a consolidated as well as work-efficient flow of the organizational processes. In today's business environments, a multitude of workloads have to be maintained in one particular automated and orderly fashion; for this, it is must for businesses to adopt cloud orchestration best practices to manage so much in one single workflow.
Cloud Automation
Cloud automation refers to the tools as well as processes that are used for reducing the manual effort to manage complex multiple cloud environments. Cloud automation has the potential of simplifying the critical business-run cloud processes so as to enhance customer experience at a larger scale.
Cloud Automation vs. Orchestration
Talking about the harmonious union of cloud automation and orchestration, it is quite likely to think them as pretty much the same! However, they do differ! While individual deployments as well as the managerial tasks could be put into cloud automation, on the other hand, the arrangements and coordination tasks of such automated process form the vital elements of cloud orchestration.
Cloud Orchestration Best Practices
Once the enterprises decide on the right DLP service, it benefits them in umpteen ways-
Always Focus on the Domains: For developing an efficiently run cloud optimization as well as automation strategy for your business, you must first focus on the domains.
Get the Know-How about Cloud Automation & Orchestration: It is important to choose the perfect mix of both the tools, the cloud automation tools as well as cloud orchestration tool, which can be very challenging. These tools, which are also known as the CMPs or the cloud-management platforms usually fall into 2 main categories: one choice is to get from a public cloud provider and the other choice is to choose a 3rd-party organization such as CloudCodes.
Embrace the Journey of Cloud Automation & Orchestration
Many firms do not just use only "the cloud," but they rather use a complex mix of a hybrid, which usually contains the multi clouds, public clouds and private clouds. The success of businesses today depends on their workable ability to orchestrate as well as automate such complex cloud environments into one single and smooth process workflow.