Anti-phishing control by SSO1
How do I prevent my business/enterprise from getting victim of phishing scam? Nowadays, this must be a crucial question whether you have startup or established businesses. Hackers may attempt to get your sensitive information via spoofing, emails, unsecure websites and many more. In our enterprise, employees contain credentials which are gateways to access their accounts as well as business documents and many more protected data.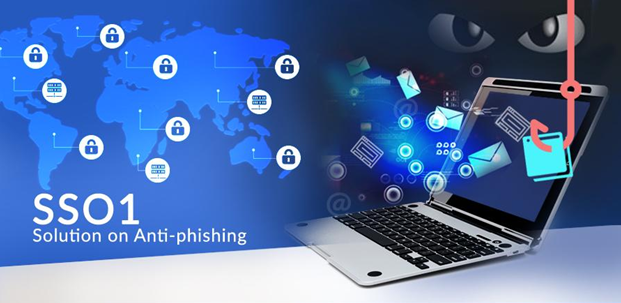 Here, critical thing is to tackle with hacker's tactics in phishing attacks for company's security. We can invest resources in providing training of strategies of hackers or by creating awareness about orientations of phishing attacks but each and every employee need to be careful for handling their day to day business transactions, browser usage, URL handlings. But security is not a limited breach.
Enterprise must focus and adapt techniques or possibilities of modern attacks. Hence, CloudCodes thinks out-of-the-box solution for you to overcome all over threats at a glance. Our main focus is on achieving solution which should be centrally managed for enterprise cloud data security. Let us discover that how CloudCodes SSO1 supports to come out with apt solution for all queries of phishing threats.
CloudCodes SSO1 emphasizes on accessing enterprise data in a secured manner.SSO1 is designed by secure methodology to ensure all the entry points to the system are well guarded against any possible attacks.
SSO1 comes with out of box support for restricting access to the login page by country and ip address. The administrator can either blacklist the countries from which request to their system should not be allowed or whitelist countries i.e. request coming from only those countries are allowed. On the similar line the administrator can whitelist and blacklist the ip address from where the request can be either allowed or blocked explicitly.
Apart from that SSO1 also comes with an option apply multiple type of restriction such IP restriction, time restriction, browser restriction and geo location based restriction. These are checked at the time of authentication. The solution provides additional capabilities to the administrator to configure whether these checks need to be made before or after the authentication. A check before the authentication ensure any brute force approach from restricted area is reported and blocked.
SSO1 is the most reliable and advanced solution whose goal is to eliminate phishing attacks possibilities with all its secured security policies. This is how, you can completely rely on SSO1 for security, control and management of biggest threats or malware attacks with its amazing features.