7 Most Important Cloud Security Certifications That A Firm Should Have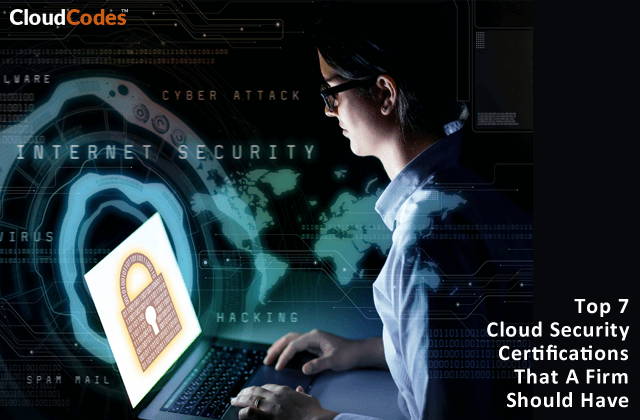 Summary – Cloud technical experts from different corners of the world suggested some of the most essential cloud security certifications that a company should have in the year 2019. These certifications should be used while making employee appointment decisions or giving training to officials.
Practitioners of cyber security searching for growth in their business should pursue an integration of service provider and vertical-particular certifications & vendor-agnostic training programs. This displays a mastery of cloud and container protection fundamentals. In an all, we are going to suggest two certifications that provide baseline detail of cloud operations, while two others are dedicated to gaining mastery around the global public online players. Rest of the 3 certifications will help clients in breaking into the public sector, enforcing DevSecOps approaches, or showing the company's customers that their data is protected. Its now time to read out seven important cloud security certifications 2019 that industry should have in today's date.
List of Cyber Security Certifications
AWS Certified DevOps Engineer – This AWS certification renders an attractive introduction to Cyber security and displays the familiarity with storage, computer, unique cloud services, and databases. But, when it is about appointing an SRE (site reliability engineer) in a company, the admin team should give priority to professional certificates like AWS certified DevOps Engineer. These certificates indicate that a practitioner knows the method for leveraging independent services, and can code things for maximum benefits to the company.
Cyber Security Knowledge Certificate – This certificate offers a comprehensive view of methods required to operate cloud and implement principles at highest level. Knowing the basic guidelines to operate cloud and different security policies to think about is important to keep up with the regular modifications. The complete perspective over the entire thing from determining assets to securing and detecting them is important in the cloud. Understanding the work of cloud security platform in terms of monitoring and detection along with the left part connect into it is really vital.
Cyber Security Professional – A certified Cloud Security Professional has become the most broadly-identified cyber security certification, displaying more job descriptions than any other certificate on the topic. It has a deep and rigorous sort of exam behind it, and companies behind the certification are given huge respect in the market. This certification demands for a documented real-world experience and isn't something that practitioners could earn only by cramming overnight and doing good in test.
FedRAMP Certification – The term FedRAMP stands for Federal Risk and Authorization Management Program, which is a cloud security certification for companies trying to establish a deal with the federal government, and open up access to the government bodies. It is a massive meaningful online certification in the public sector in today's date and there is nothing similar to it at this stage. The significance of FedRAMP is only defined to quickly grow as state government is increasing its adoption rate.
GIAC Python Coder Certificate – This cloud security certification ensures that the security officials have the knowledge about Python scripting language and they can use it for cloud security purpose. Since the businesses move from DevOps to DevSecOps app creating cycles, cyber security heads should have knowledge about coding part as well. The GIAC python coder certificate could help retool engineering groups around automation. This certificate is issued by the Global Information Assurance Certification company.
Azure Security Engineer – The Microsoft Certified : Azure security engineer comes under the cloud security certification 2019 that assesses the feature of practitioners to enforce security controls and threat protection, deal with the identity and access, and secure information, apps, and networks in hybrid and cloud platforms. Particularly, Azure security engineer associates practitioners are assumed to be able to set MS Azure Tenant security, AD for Workloads, and AD Privileged Identity Management. The certificate owners are expected to enforce container security, network security, management security, and host security. Its the duty of certificate holders to configure security standards and app security too.
SOC Two Certification – Enterprises that had covered the cloud platforms are majorly concerned about their components around customer information, as well as in the organization can see the data and monitor an online service. The SOC 2 certification places the stringent controls over the customer data, demanding for companies to set the boundaries around their cloud storage system and audit the data access permissions. This cyber security certificate places several controls at their exact location for cloud administrative best measures, protecting customers information from being getting misused or breached.
You'll Get All In These 7 Certification
Enforcing the listed seven cloud security certifications will allow companies to create a strong security boundary around their data stored on a cloud. They can free themselves from the stress of cybercrime occurrence or data leakage, and focus on their actual vision. If you are following this certification properly with a proper update in them, nothing else is required to protect cloud data./p>