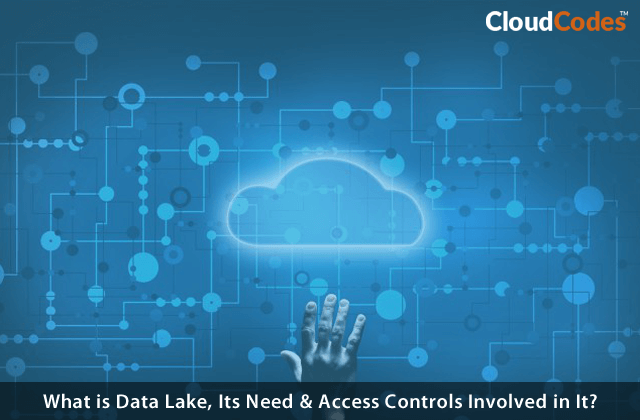 Today's post is going to introduce readers to the concept of a data lake and its requirement in the business world. Later on, they will track the data lake access controls for the purpose of stored data security.
If an individual is even tangentially engaged in big data, he/she knows that detecting storage services for the data volumes being originated in every second is most essential. When it is about data management, executives can consider the use of a data lake or a data warehouse as a data repository. It has been observed that the majority of enterprises are already known with the concept of data warehouse but, they are unknown from the data lake. Therefore, let's first learn what is a data lake?
Introduction to Data Lake
Some people have an assumption – the 'a data lake is simply a 2.0 edition of a data warehouse.' Although it's true that both are similar, they have different products that have different functionalities. You can understand this by reading the following statements:
"If you imagine of a datamart as a bottled water store – cleansed, packaged, and structured for effortless consumption – the data lake is a huge water body in a more natural phase. The elements of the data lake stream in from a source to fill up the lake and several persons of the lake can come to analyze, take samples, and dive in."
A data lake stores records in an unstructured manner where no hierarchy is followed. It maintains data in its rawest manner – it is not analyzed or processed. In addition to this, a data lake accepts and retains all information sources, supports all data schemes and types that are applicable only when data is ready to use. A 'data lake' is a centralized repository, which enables you to save all your structure as well as unstructured data at any scale. You can archive your data as-it-is, without having to first architecture the data, and execute different types of analytics – starting from dashboards and visualizations to processing of big data, machine learning, and real-time analytics.
What's The Need of Data Lake?
Enterprises, which successfully initiate industry value from their data, will outperform their peers. A survey had shown us that enterprises who implemented a 'data lake' are outperforming similar organizations by 9 percent in organic revenue growth. These leaders were capable of using analytics' new types like machine learning over trending sources like documents, data from click-streams, internet-connected devices, and social media data saved in the data lake. This contributed to identifying and acting upon opportunities for business development faster by pulling and retaining clients, proactively maintaining devices, boosting productivity, and creating informed decisions.
Time to Read 6 Tenets of Data Lake Access Control
Fulfilling the requirements of data storage in a business demands for technology and process. Here, we are going to concentrate on technology. As companies build and use platforms to complete their defined set of goals, they must make sure that any approach to offer access control and governance is based on the following 6 basic tenets:
Data centricity
Rich access policies
Scalability & Automation
Unified data visibility
Open, API-first design
Data Centricity – Data lake access control standards and governance should not be dependent upon the storage system or analytics engine being used. The solution must have a data-centric nature and allow the enforcement of the consistent standards using products you use in the current date and might use in the upcoming time.
Rich Access Policies – Effective access control and governance must give support to both structured and unstructured data at several granularities. For structured data, granularity should begin from a set of data to individual datasets, to rows, columns, and cells. For structured data, it should range from various folders to single documents.
Scalability and Automation – A basic purpose while enforcing a data lake is the ability to use and operate the platform at scale without costing human resources and integration. When a business decides to acquire data lake infrastructure, they should ensure the access control and governance comprises of similar scalability & cost goals.
Unified Visibility – Two major aspects of usage visibility needs to be considered i.e., Historical visibility and current state visibility.

Historical visibility provides a deep image of user activities and access patterns through the audit trail.
Current state visibility is an ability to give an answer to questions like 'Who has access to a given data type, and what their view?'

Open, API-First Design – The strategy of access control and governance has to support the latest products, vendors, and frameworks. This will inevitably connect the analytics and machine learning ecosystem. This states it should use a service-oriented infrastructure and simple API to experience an effortless data management system.
Hybrid and Multi-cloud – A modern industry motivating to be agile and enforce best technologies to develop company value faster is also discussing architecture in the same way. For lots of C-level executives, hybrid and multi-cloud are top in mind. This means that the method to data access control and governance should be provider agnostic and cloud-native. It should also support hybrid infrastructure as well.
Time to Wrap Up
For major companies, giving access control and governance on latest, cloud-based data lakes demand for a successful balance in between the user empowerment and securing private data. It is tough to determine the correct technology and products for fulfilling the business agility requirements without compromising the security level. Well, organizations can convert their imagining goal into reality by ensuring their strategy to data lake access control and governance that are based on the listed 6 tenets.