Quora data hacking took place in recent days, which means the threat on a crowdsourced question-and-answer website exposed 100 million users data. Today, the top question on Quora site may be 'Is my data really lost?' We understand your pain but its a real news that 'one of the known question-and-answer websites was hacked by a malicious third party who gained personal records of users.' This post is going to brief end users with what happened in Quora data breach incident, what data was theft, and now what steps are to be taken.
Come Let's Learn About Quora Data Breach Incidence
On December 4th, 2018 (Monday), the company Quora informed its customers that their account has been hacked by a malicious third party. These unknown intruders have gained access to one of the present organizational PCs. Don't know when Quora data leakage incidence occurred but, the internal security team of company discovered it on November 30th, 2018. Following Europe's new data security regulations named as GDPR compliance, the company did not disclose the information for 72-hours. It was mandatory for Quora to follow the regulation because the company deals with EU citizens data. Well, it is being observed that personal records of around 100 million were leaked in Quora data breach incidence.
The Q&A site sent an email to all its customers in which it claimed that the hacking was an outcome of the unauthorized use of one of our hacked systems. Following type of content is mailed to the customers: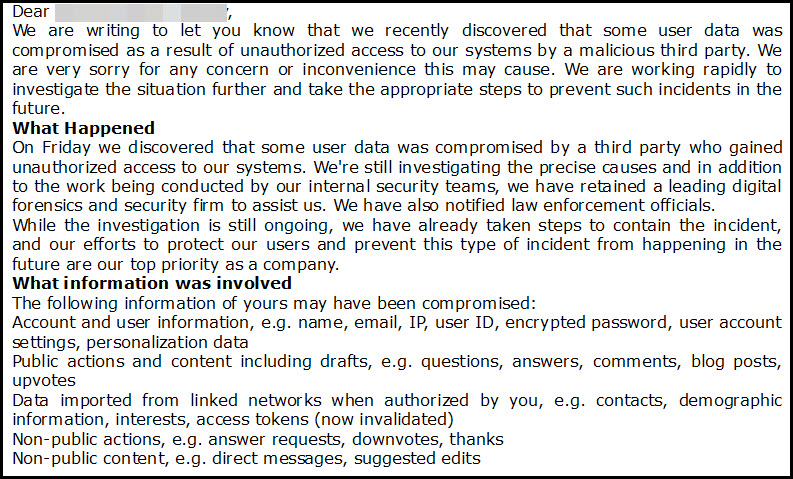 The information provided in the notification email clearly states that industry is still investigating Quora data hacking incidence, and major actions are already acquired for mitigating the damage. In today's date, the company's priority is only to 'adopt advance cloud data security measures to achieve prevention against this type of incidence occurrence in the upcoming future.'
Is the Culprit Caught?
Quora had hired one of the best forensic investigation teams to analyze the entire incidence. The internal security team of the company along with forensics team is investigating for the same. Both parties are working together to catch the culprit in shortest time period. After announcing the Quora data breach incident, the company quoted following kind of apology statements on social media platforms:
"We understand that maintaining the customer's trust is now difficult for us. Now we have to work harder to ensure our clients that this will never happen again."
The company is taking the entire responsibility for the incidence occurrence and is sorry for the same. It realizes that employees should have worked on its security standards in order to be safe from Quora data hacking. But, who knows when the bad times will come?
Quora Data Breach Leaked What Type of Client's Details?
As per the current investigation procedure, Quora observed that the following sort of information might be stolen:
Users information with their account details like name, IP address, user ID, personalized information, encrypted password
Public operations and the data that comprises drafts like questions, comments, answers to the queries, upvotes, blog posts
The content imported from associated networks when authorized by you, life communication details, client's interest, demographic data, access tokens
Private data like personal messages or suggested edits
Private actions like thanks, answer requests, downvotes
Quora also notified its clients that the data leakage incidence lies under the category of the identity theft cybercrime. It is so because no financial records are stolen during the Quora data leakage threat, leading to no exposure of SSN and credit card numbers.
Fine, Quora Data Breached! Now What to Do?
Being a customer, first of all, we request you to stay charmed and follow the instructions as mentioned below:
During these days do not ignore the emails coming from Quora, because they are going to notify you with the current status of data theft incidence.
If you have kept the account password of Quora and other online platforms same, immediately change it from all other platforms.
Check that all the social media or business accounts are enabled with the option of multi-factor or two-factor authentication.
If you are no more working with Quora account that had created quite a long time ago, without any delay delete it from Q&A website.
Its the Correct Time to Knock The Doors of CloudCodes
Today's CyberWorld can be protected by the use of automated solutions to be safe from future cyber threats like Quora data breaches. Talking about the best solution for data breach security then, we have CloudCodes CASB software easily available in the market. No matter whether you are owning a small business, a medium firm, or a big enterprise, but now it has become essential to work with CloudCodes. Quora data leakage is the best example to demonstrate a scenario where firms are still not having serious concern regarding cloud data security. So its time to wake up and become an active & secured online user with CloudCodes CASB Solution provider!