Data Loss Prevention Audit Checklist
The Data Loss Prevention audit checklist for the internal quality audit comprises of a particular set of questions. These questions are derived from the standard requirements of quality management system and also the rules required by the firm. Business users map the requirements against all those challenges that are procuring the technical solutions. For a help, a Prospective vendor Checklist is developed, which comprises of requirements to be organized in following 3 major categories:
Host or network protection from data leakage and file encryption
Management and the support
Organization profile and costing
The entire blog acts as a checklist for prospective vendors. This could be utilized in a combination with an interactive data protection requirements worksheets for calculating the rates and then, vendor comparison.
Prospective Vendor Data Loss Prevention Audit Checklist
These points are to be checked after successfully completing with implementation of DLP in the account.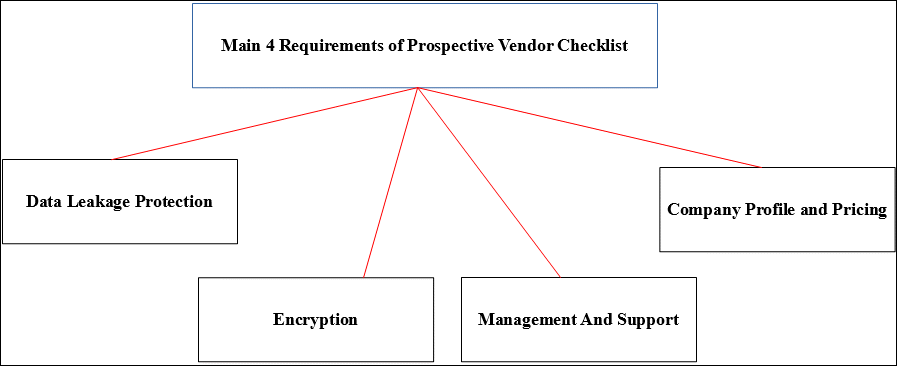 Data Leakage Protection
This testing is performed when is data at rest, data in use, and data in motion.

1. Discovery, Searching, and Retention
Discovery: Capable of discovering the unknown or unmarked data
Retention: Registration of repository files by providing them inventory
Search: There are two parameters upon which users can search data i.e., specified time duration and indexed content based. This content-based is dependent upon expressions, keyword, content patterns, type of the document file, etc.
2. Monitoring, Alerting, and Enforcement
Monitoring: Discovering, identifying, correlating, analyzing, and logging every activity performed with the sensitive data. This includes file hosting, items processed within the application on host, program being getting accessed, over input/output channels, and capability of differentiating unclassified or untagged data and then, adding them to existing DLP policies.
Alerting: Just after the time when violation is detected, define and then, implement the actions to be performed. One can monitor the tagged data for the violation purpose from the management console. They can also provide alert to end users or administrators as a preventive measure. At the last, capable of applying the alert rules to the previously unclassified or untagged data.
Enforcement: Mention and apply actions to be taken to enforce at the time of violation. DLP encounter new incidents, which are defined by the end user, location, context, and application. When a sensitive file is discovered, the DLP should encrypt, quarantine, and delete it.
3. Forensic / Investigation: This captures the data from an event with a set of appropriate metadata (date/time, protocol, user). These get stored and indexed for searching purpose 'after the fact'. It must be having storage capability at high-scale to preserve metadata with raw items for investigation as well as regulation purpose. After checking all this, verify that partnerships with third-party service providers are also established.
4. External Device Control: Through the help of endpoint agents, describe and implement usage controls over the external device components. One can assign either the 'allow' or 'disallow' permission to others. Check that the encrypted data is getting copied on the devices. Users can block the copying of protected data on the device. Dependent upon the data type of the copied items, users are having authority to disable external components.
5. DLP Rules Support: Check the following parameters in support section of DLP rules:
Business / Regulation Support
Rules Creation, Extension, and Management
Encryption

1. General: This persistent the data encryption when data is in use or is at rest. This involves emails with attachments, files or folder, complete disk encryption, On client machine pagefile, offline files, and mobile devices.
2. Algorithms, Keys, and Certificates
The DLP supports FIPS 140-1 / 140-2 algorithms (RC5 / AES)
It gives support to strong key length i.e., 256-bit and more
Provides a common level of certifications, including all the standards for protection purpose
3. Key Management and Recovery
A centralized management for encryption keys and policies
Not administrative key for unlocking all files that are having responsibilities as per specified rules. The files can be decrypted only by their original keys
Even is the machine is in offline mode then also there should be secure recovery for forgotten tokens
Encrypt all the communications for transferring of key information
In case of damage occurrence, data retrieval from important users data
4. Encryption Management
The centralized management for policies of encryption with the keys and recovery techniques
Procedure for flexibly developing and updating the policies
Set the rules, which are based on the type of documents and files
Depending on the user and group, create a set of rules
Management support for folders, files, and full disk encryption
Support for several types of two-factor authentication along with their certification
Management and Support

1. Implementation, Deployment, and Management
Support centralized administration, deployment, DLP management, and reporting
Control all the products related to security from one administrative console
Renders easy and interactive installation steps, and
Provides documentation, which is easy to follow
2. Administrative Access
Require an individual account for each admin
Working flow chart, which provides support to owners in business hierarchy
Management and proper configuration of several administrative roles
Diving duties or responsibilities depending on the administrator
3. General Policy and Rule Management
Renders centralized management across the data protection and policies of encryption
Easy-to-use working interface to customize rules as well as policies
Enabling reuse of the already existing rules for constructing new templates
Permit with a feature of disabling machine ports and provides support for granular program and control over the device
4. Incident Workflow
Investigates the incident, which involves data at rest, in use, and data in motion from the console of centralized management
Enables definition and establishment of particular workflow
Divides the cases into basis of user-defined categories
Renders access controls and security around the incidents
5. Reporting, Auditing, and Compliance
Supervise the alerts of HDLP, NDLP, and encryption just from one console
Launch single components from a single console screen of central management
Capable of meeting all regulatory requirements, which are applied
Flexibility in identifying all the log events
Company Profile and Pricing

1. Company Profile
Compatible base for customers
Comprehensive technology partnerships
Standing for sound financially
Track the record of adapting the market requirements
2. Maintenance and Support
Profession services breadth
Policy to upgrade the software
Accessible base of knowledge
Web-enabled access for upgrading and patching
3. Pricing
Pricing model (per group, user, device)
Add a value (integration, manageability, etc.)
Conclusion
The blog gives an outline of Data Loss Prevention audit checklist. Users can read this after successfully implementing DLP feature in their account.